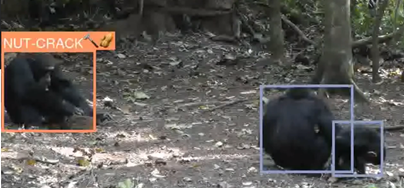 @ KYOTO UNIVERSITY, PRIMATE RESEARCH INSTITUTE CANTANHEZ CHIMPANZEE PROJECT
Chimpanzees in West Africa have a clever trick to get at the tasty kernels inside oil palm nuts. They carefully select a flat rock to act as an anvil and place a nut on top. Then, using another stone as a hammer, they pound away until the nut's hard exterior cracks with a crunch.
Until now, scientists eager to learn more about this tool use could spend weeks combing through hours of raw footage to find the relevant recordings. But a new artificial intelligence system out today can do the grunt work for them, automatically finding and identifying the right clips in footage captured from the wild.
More details, please click: https://www.science.org/content/article/artificial-intelligence-helps-scientists-spy-chimp-behavior-wild.